Slow Democracy: Rediscovering Community, Bringing Decision Making Back Home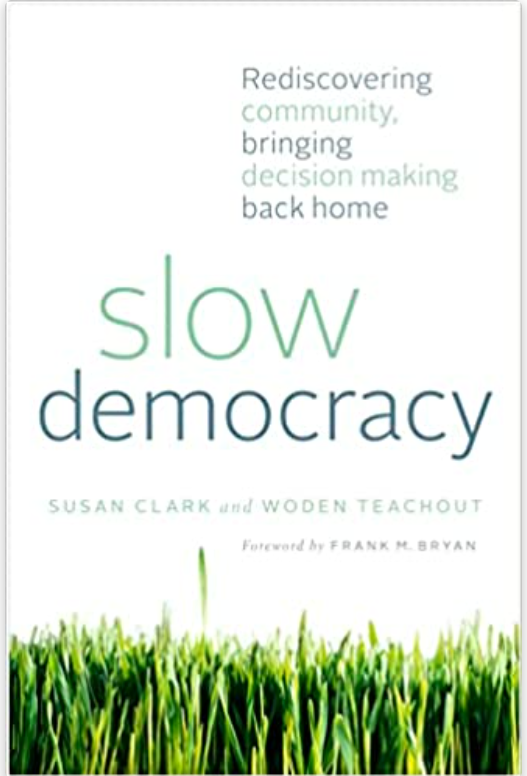 Reconnecting with the sources of decisions that affect us, and with the processes of democracy itself, is at the heart of 21st-century sustainable communities.
Slow Democracy chronicles the ways in which ordinary people have mobilized to find local solutions to local problems. It invites us to bring the advantages of "slow" to our community decision making. Just as slow food encourages chefs and eaters to become more intimately involved with the production of local food, slow democracy encourages us to govern ourselves locally with processes that are inclusive, deliberative, and citizen powered.
Susan Clark and Woden Teachout outline the qualities of real, local decision making and show us the range of ways that communities are breathing new life into participatory democracy around the country. We meet residents who seize back control of their municipal water systems from global corporations, parents who find unique solutions to seemingly divisive school-redistricting issues, and a host of other citizens across the nation who have designed local decision-making systems to solve the problems unique to their area in ways that work best for their communities.
Though rooted in the direct participation that defined our nation's early days, slow democracy is not a romantic vision for reigniting the ways of old. Rather, the strategies outlined here are uniquely suited to 21st-century technologies and culture.If our future holds an increased focus on local food, local energy, and local economy, then surely we will need to improve our skills at local governance as well.
Published:
October 10, 2012
Genres: